Jo Davidson par Man Ray 1925

"No one ever met Jo and then forgot him. Wherever he was, his vibrant personality pervaded. He was tremendously gifted for the work he did. He was intelligent, incisive, witty, a marvellous raconteur. His enthusiasm was endless. He hated everything mean or intolerant." - Harry Rosin





Jo Davidson (March 30, 1883 – January 2, 1952) was an American sculptor of Russian-Jewish descent. Although he specialized in realistic, intense portrait busts, Davidson did not require his subjects to formally pose for him; rather, he observed and spoke with them. He worked primarily with clay, while the final products were typically cast in terra-cotta, marble and bronze.
Born in New York City, Davidson attended Yale University before moving to Paris to study sculpture at École nationale supérieure des beaux arts in 1907. After returning to the United States, he was befriended by Gertrude Vanderbilt Whitney, who purchased some of Davidson's work.
In 1911 Davidson secured his first solo gallery shows; in 1934 he won the National Academy of Design's Maynard Prize, and in 1947 the American Academy of Arts and Letters hosted a retrospective featuring nearly 200 of his works. He was one of 250 sculptors who exhibited in the 3rd Sculpture International held at the Philadelphia Museum of Art in the summer of 1949.
Among Davidson's commissions are a design for a United States War Industries badge, a collection of pieces for the Government of France to commemorate the first victory of the Troupes de Marine and bronze busts of the leaders of the Allies. His portraits of world leaders and celebrated personalities gained him international acclaim, and included such luminaries as Woodrow Wilson, Franklin Delano Roosevelt, Rudyard Kipling, James Joyce, Gertrude Stein, Andrew Mellon, Will Rogers, John D. Rockefeller, Joseph Conrad, Anatole France, Lincoln Steffens, Gertrude Vanderbilt Whitney, Marshall Ferdinand Foch, General John J. Pershing, John Marin, Rabindranath Tagore, Frank Harris, Israel Zangwill, Charlie Chaplin, Robert M. La Follette, Clarence Darrow, Émile Coué (who was also a sculptor in his spare time), H. G. Wells, Robinson Jeffers, André Gide. George Bernard Shaw, James Barrie, Arthur Conan Doyle,D. H. Lawrence, W. Averell Harriman, Madame Chiang Kai-shek, Dolores Ibárruri, aka "La Passionaria", Helen Keller, Mahatma Gandhi, Dwight D. Eisenhower, Ida Rubinstein, Albert Einstein, Carl Sandburg, Marshall Tito, E. W. Marland and Walt Whitman. Will Rogers' statue is a full-body bronze portrait erected at the United States Capitol in 1939. Walt Whitman's portrait is also a full-body bronze, and stands in Bear Mountain State Park, New York. Some of Davidson's work is in the National Gallery of Art and in the Capitol Building where he has placed two works, Will Rogers of Oklahoma and Robert M. La Follette of Wisconsin in the National Statuary Hall, and busts of two vice-presidents, Henry A. Wallace and Charles G. Dawes, all of which are located in Washington, D.C.. He also designed a statue of Henry D. Thoreau, the author of WALDEN. The statue is located at Walden Pond State Reservation in Concord, MA.
In 2006, The Smithsonian Institution's National Portrait Gallery opened a permanent exhibition, "Jo Davidson: Biographer in Bronze", showcasing fourteen Davidson works in terracotta and bronze, including portraits of Gertrude Stein and Lincoln Steffens (Wikipedia)

Buste de Lord Balfour (1951)



Walt Whiman (1939)






Albert Einstein



Charlie Chaplin
My approach to my subjects was very simple. I never had them pose, we just talked about everything in the world.
Jo Davidson

Letters They Wouldn't Publish
Dear editor:
Your July 27 museum review noted that the late Jo Davidson, whose sculptures are featured in a new exhibit at the National Portrait Gallery and Smithsonian American Art Museum, was an "often-political artist ... He was involved in the foundation of the Independent Voters Committee of the Arts and Sciences in 1944, which later became the Progressive Party."
Much of Davidson's political activity during the 1940s was devoted to another cause: rescuing Jews from the Nazis. Davidson played a leading role in the work of the Emergency Committee to Save the Jewish People of Europe (better known as the Bergson Group). He served as the group's vice-chairman and was involved in its leadership decisions. He used his social and political contacts to open doors for the Emergency Committee in the halls of power--for example, it was Davidson who introduced the Committee's leaders to Adlai Stevenson. He signed his name to dozens of the Bergson Group's full-page newspaper ads calling for rescue, thus lending the prestige of his celebrity status to that important cause. He took part in the Bergson Group's meetings with senior U.S. officials, including Secretary of State Cordell Hull and Assistant Secretary of State Breckinridge Long, to protest the Roosevelt administration's apathy towards European Jewry.
This month, Washington will remember Jo Davidson for his extraordinary bronze sculptures. But it was not so long ago that Washington saw another side of Davidson, the artist who became an activist to help save Europe's Jews from annihilation.
Sincerely,
Rafael Medoff
Director
The David S. Wyman Institute for Holocaust Studies
Washington, D.C.




Ida Rubenstein (1922)
Will
Frank Sinatra (1947)





Selfportrait



Gertrude Vanderbilt Whitney 1916



The Times
Monday, Dec. 03, 1951

It was "the most stifling August day in history." In his studio in Manhattan's McDougal Alley, Sculptor Jo Davidson was modeling a World War I statue, to be entitled France Aroused. Gobbets of clay and drops of sweat impacted into a hot mulch in his bottomless black beard. "Why don't you shave it off?" tittered his model, who was posing coolly without a stitch. Davidson flew out to the barber, soon emerged as smooth as Tweedledee. When he got home, Mrs. Davidson took one look at the close-cut sward and shrieked: "You are awful—you are terrible—don't come near me—don't touch me!"
Ever since, Jo Davidson has let his beard grow. Today it is the finest growth of anti-freeze known to U.S. art since Walt Whitman's—in fact, New York Park Commissioner Robert Moses, unveiling Davidson's statue of Whitman in Bear Mountain Park, declared himself "not quite sure whether this is a statue of Walt Whitman by Jo Davidson or a statue of Jo Davidson by Walt Whitman."
Gandhi & Greatness. Hairy charm is not, however, Davidson's only contribution to art. His admirers believe that, at 68, he is the greatest living sculptor. His critics argue that this is true only if, by sculpture, is meant the art of making speaking likenesses. For jovial Jo has never been one to conjure up abstractions or depict the unseen "soul" of his sitters. He takes people, quite literally, at their face value. When the face wears a mask (as he finds most faces do), Jo waits for the moment when the mask slips—and pounces.
Between Sittings, Jo Davidson's autobiography, is just like his sculpture. Short on profundity, it glows with gusto and innocence. Those who come to it for dazzling impressions of people and places will find nothing but what they already know, e.g., that Israel is "the birthplace of our civilization," that Gandhi looked like "a holy man," that Will Rogers specialized in "nuggets of wisdom." Luckily, the bulk of Between Sittings is not about what Jo thought and did between sittings, at all. It is about the hell of a life he led cooping pawky big shots into a corner long enough to model them—and the fine time he had listening to them jabber away, once he had softened them up.
In his youth (which lasted for a good many years), Manhattan-born Jo was a true-blue Bohemian expatriate. He lived on the cuff in Paris, plunged into new "movements" like a spaniel into water. He thought nothing of walking from Paris to Lucerne with Leaves of Grass and a Great Dane. He joined the Paris circle of Gertrude Stein ("There was an eternal quality about her"), and later portrayed her as a modern Buddha; in return, Gertrude made "a portrait of me in prose. When she read it aloud, I thought it was wonderful . . . But when I tried to read it . . . to some friends, or for that matter to myself, it didn't make very much sense."
Jo's first big chance as a sculptor came in World War I, when he got the notion of modeling a "plastic history" of the times. Masaryk, Pershing, Foch, Clemenceau all sat to him.
Sardines, Dimes, Cheese. After the war, Jo took off for Russia, hoping to fill out his plastic history with a bust of Lenin. He never got Lenin, but he got a host of influential underlings. When Foreign Minister Chicherin, who lived in great splendor, heard that Karl Radek, who lunched off sardines on newspaper,* was being sculpted, Chicherin remarked to Jo: "What a curious man, Radek. Why does he go on living in such squalor? . . . After all, there has been the revolution." "He is a curious man, Chicherin," confided Radek. "Look at the way he lives. You would never know there had been a revolution."
When Jo came home, he "busted" the great John D. Rockefeller. Rockefeller asked Jo about his pulse rate (his own, he said, remained steady at 57 under all circumstances), made him play cards for one of the famous Rockefeller dimes, and read the New Testament to him. "You know," sighed the aged magnate, "for years I was crucified. It is better now."
Jo never had a sitter he admired more than Franklin Roosevelt. It was not hard to get F.D.R. talking, and he once told Jo his secret ambition. "Do you know," asked F.D.R., "that cheese shop in Paris on the Rue d'Amsterdam? . . . When I get through with this job of being President . . . I am going to open a cheese shop like that."
* And was last heard from 14 years ago, when he drew a ten-year prison sentence in the Moscow treason trials.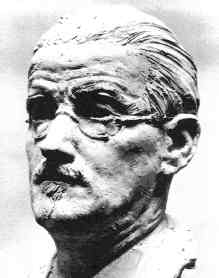 James Joyce


Franklin D.Roosevelt
Marland