"Lovely Rita"

Aaaahhh...

Lovely Rita meter maid
Lovely Rita meter maid

Lovely Rita meter maid
Nothing can come between us
When it gets dark I tow your heart away
Standing by a parking meter
When I caught a glimpse of Rita
Filling in a ticket in her little white book
In a cap she looked much older
And the bag across her shoulder
Made her look a little like a military man

Lovely Rita meter maid
May I inquire discreetly (Lovely Rita)
When are you free to take some tea with me? (Lovely Rita, maid, ah)
Rita!

Took her out and tried to win her
Had a laugh and over dinner
Told her I would really like to see her again
Got the bill and Rita paid it
Took her home I nearly made it
Sitting on the sofa with a sister or two

Oh, lovely Rita meter maid
Where would I be without you
Give us a wink and make me think of you (Lovely Rita meter maid)
Lovely Rita meter maid, Rita meter maid (Lovely Rita meter maid)
Oh Lovely Rita meter meter maid (Lovely Rita meter maid)
Ah da, ah da (Lovely Rita meter maid)

[Leave it.]
There was a story in the paper about 'Lovely Rita', the meter maid. She's just retired as a traffic warden. The phrase 'meter maid' was so American that it appealed, and to me a 'maid' was always a little sexy thing: 'Meter maid. Hey, come and check my meter, baby.' I saw a bit of that, and then I saw that she looked like a 'military man'.
Paul McCartney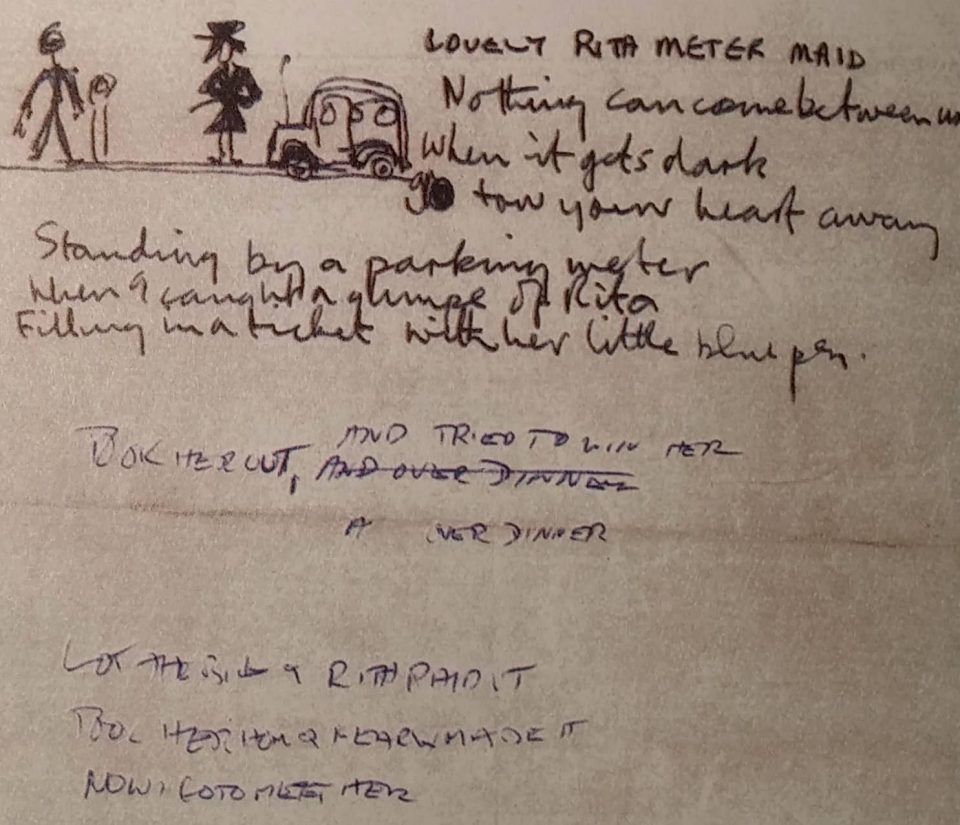 I remember one night just going for a walk and working on the words as I walked... It wasn't based on a real person but, as often happened, it was claimed by a girl called Rita [sic] who was a traffic warden who apparently did give me a ticket, so that made the newspapers. I think it was more a question of coincidence: anyone called Rita who gave me a ticket would naturally think, 'It's me!' I didn't think, Wow, that woman gave me a ticket, I'll write a song about her - never happened like that.
Paul McCartney
I used to try out funny things in odd moments and I discovered that by putting sticky tape over the capstan of a tape machine you could wobble the tape on the echo machine, because we used to delay the feed into the echo chamber by tape. So I suggested we did this using a piano sound. The Beatles themselves couldn't think what should go into the song's middle eight and they didn't really like my idea at first, but it turned out fine in the end because of the effect. It gave the piano a sort of honky-tonk feel. In fact, Paul asked me to play the solo when I made the suggestion but I was too embarrassed.
Geoff Emerick