Former Wings guitarist and Northern Ireland music legend Henry McCullough dies
The 72-year-old was from Portstewart and was one of Paul McCartney's favourites in the early days of Wings.
Born in 1943, he took up the guitar as a boy. He supported Jimi Hendrix and went on to play with some of the biggest names in music, including Joe Cocker and then Paul McCartney & Wings.
After leaving Wings after just one album he later turned to session work with major stars.
He also played with Marianne Faithfull, Dr Feelgood and Pink Floyd and played the original Peace and Love Festival at Woodstock.
He also toured extensively with his own band.
Over recent years Mr McCullough had suffered ill health.
A concert was organised in Dublin to help raise funds for his ongoing care.
Well-known Irish musicians, many of whom worked alongside McCullough, played Vicar Street for a special Salute To Henry fundraising concert.
Among the artists taking part were Christy Moore, Declan Sinnott, Mick Flannery, John Spillane, Johnny Duhan, Honor Heffernan, The Ed Deane Band and The Kevin Doherty Band. Two bands for whom he played in the past, Sweeney's Men, and Fleadh Cowboys, are also part of the line-up.
On Tuesday, his agent Nigel Martyn confirmed Mr McCullough's passing.
He said Henry's long-time French partner Josie said he had died that morning.
"She had lost her one true love," he said.
Speaking in 2012 of his friend, the impresario Paul Charles said: "Henry has always been a superb musician, in demand and much loved."
"He played on the original Jesus Christ Superstar album before it ever became a hit musical.
"In his heyday he was always delighted to sit in at sessions with McCartney who eventually persuaded him to join Wings. He played lead guitar on their hit My Love."
Tributes have been made to Mr McCullough on social media.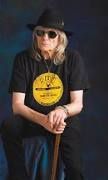 DISCOGRAPHIE SOLO :
Mind Your Own Business (1975)
All Shook Up (1982), Maxi Single
Hell of A Record (1984)
Cut (1987)
Get In The Hole (Live) (1989)
Blue Sunset (1998)
Failed Christian (1998)
Belfast To Boston (2001)
Unfinished Business (2002)
The Henry McCullough Band: FBI Live (2007)
Poor Man's Moon (2008)
Shabby road (2012)
Other album credits
Credits on singles