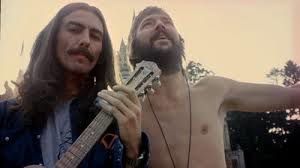 George Harrison to appear on Eric Clapton's new album
Eric Clapton is to release his new studio album, I Still Do, in the spring.
The the album has been produced by Glyn Johns, who previously worked on Clapton's 1977 album, Slowhand.
"This was a long and overdue opportunity to work with Glyn Johns again, and also, incidentally, the 40th anniversary of Slowhand," Clapton said in a statement.
The new record is due on on May 20 via Clapton's own Bushbranch imprint, in association with Surfdog Records.
The cover art for I Still Do is a portrait of Clapton painted by Peter Blake.
Meanwhile, the credits for the album listed on Clapton's website list 'Angelo Mysterioso – Acoustic Guitar & Vocals on "I Will Be There"'.
Mysterioso was the name used by George Harrison for his work on the song "Badge," which he co-wrote with Clapton on Cream's album, Goodbye.
The tracklisting for I Still Do is:
Alabama Woman Blues
Can't Let You Do It
I Will Be There
Spiral
Catch The Blues
Cypress Grove
Little Man, You've Had a Busy Day
Stones In My Passway
I Dreamed I Saw St. Augustine
I'll Be Alright
Somebody's Knockin'
I'll Be Seeing You
The musicians on the album are:
Eric Clapton: Guitars, Tambourine & Vocals
Henry Spinetti: Drums & Percussion
Dave Bronze: Double Bass & Electric Bass
Andy Fairweather Low: Electric & Acoustic Guitar, Backing Vocals
Paul Carrack: Hammond Organ & Backing Vocals
Chris Stainton: Keyboards
Simon Climie: Keyboards, Electric & Acoustic Guitar
Dirk Powell – Accordion, Mandolin & Backing Vocals
Walt Richmond – Keyboards
Ethan Johns – Percussion
Michelle John – Background Vocals
Sharon White – Background Vocals
Angelo Mysterioso – Acoustic Guitar & Vocals on "I Will Be There"